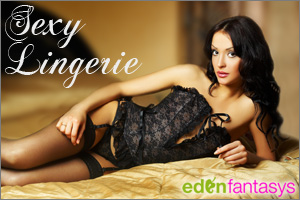 *Must be over 18+ to continue, My post is PG, but my links will take you to an on-line Adult Store. Thanks!*
It's almost that time of the year again, yep, Christmas! Time for all Santa's little elves to get Christmas in order, making (buying) toys, wrapping presents, and the all time favorite; decorating. And what better way to spruce up any holiday spirt, than by dressing up as Santa's little helper. At
EdenFantasys
, they offer a lot of great Christmas items, including: sexy lingerie,
sex toys
, and cute Santa costumes. Let me give you a little tour of some of my favorite Christmas items on EdenFantasys.
Velvet Santa Costume: $43.99
This cute little number will sure to put you on Santa's nice list. This costume is made by: Coquette. It features white marabou trim on both the top and bottom pieces, and is made out of stretchy velvet, sure to show off those awesome curves.
Reindeer Games Dress: $49.99
This sexy little costume is designed by: Leg Avenue. This would be an eye popper at any Christmas party, with its laced up sides, and cute little reindeer headband. It features a soft plush trim, and is made out of 100% polyester. I guarantee you wont be left out of any reindeer games!
Wild about Christmas: $47.99
This would be my favorite, I love anything with animal print, and it's unique.
Show your wild side with the cute dress designed by: Dreamgirl. Is made out of polyester with a velour touch to the dress. This cute costume includes a hat, romper, and the adjustable strap dress. Unleash the animal in you, and you will sure be the spot light of the party.
Deck my Halls: $24.99
This cute little babydoll may put you on the naughty list with your significant other,
(in a good way). Its designed by:
DreamGirl and is made out of polyester and mesh. It features white marabou trim neckline, and jingle bell trim. You would really look cute under the tree, and put a huge smile on your loved ones face. ;)
Santa's Baby: $22.99
Sleep feeling sexy with this cute babydoll, designed by:
DreamGirl. Made from polyester and mesh and it features the white marabou trim, and matching thong. Santa would definitely call you his baby in this!
Satin Santa Apron: $29.99
Look sexy while baking Santa those special cookies with this adorable satin apron. This apron is designed by: Coquette and is made out of acetate, and features faux fur trim. Be Santa's sexiest little helper ever in this apron! (where with clothes for family parties, or by its self for those intimate nights with the significant other).
Santa's Sweetie: $47.99
This is another one of my favorites, and would be great for any Christmas party or get together. Designed by: Dreamgirl and made form stretchy velvet and faux fur, this set includes hat, necklace, belt and gauntlets. You will be dressed to impress with this fancy strapless dress!
Holiday Thigh Highs: $8.99
Don't forget the accessories! With these Stockings designed by:
Leg Avenue will surely do the trick. Made from nylon and features a white marabou puff, a red satin bow and two jingle bells. These will definitely make your costume stand out from the crowd.
EdenFantasys also has a lot of great other themed Christmas items to spice up the holiday in the bedroom as well. Like the Secret Santa Tingle Gele, or the Christmas Plush Cuff Set .With these super sexy Santa themed items, you will surely be Santa's Little Helper.
You can find any of these things listed here on EdenFantasys, and with an order of $59+ you will get free shipping! Don't forget you get a free gift with any purchase! You can connect with EdenFantasys on
Facebook
and
Twitter
(
@EdenFantasys
), to stay up-to-date with great deals, sales, and contest!
*Disclaimer - EdenFantasys is providing me with a gift card, free of charge, in exchange for this review. In no way did this alter my opinion of their products. All of my opinions are one hundred percent honest and true, your opinion may differ.*